Join our October Vigils Outside of Seaside Planned Parenthood
Candlelight prayer vigils are powerful and inspirational. The presence of the Holy Spirit is tangible. Last week, 18 people attended. Fr. Dooling led an ecumenical service for us. Thank you! Pretty good start. 
Tonight is the second of five Thursday Candlelight Vigils in the month of October, Respect Life month. Vigil begins at 7:00pm on the sidewalk in front of 625 Hilby Ave., in Seaside. Parking can be found on Hilby Ave. Liturgy is appropriate for all denominations. Let me know if you have a passage from the Bible or pro-life literature to distribute. 
A Few Housekeeping Items 
1. There may be some verbal jabs from passer bys. It is better not to respond except with a smile, "blessed are the persecuted." We are peaceful, prayerful and law abiding. 
2. City of Seaside Noise Ordinance prohibits yelling or shouting since it will be dark and we are nearby private residences. 
3. Let's leave space on the sidewalk for pedestrians. If you see someone approaching on foot please move forward towards the curb so they may pass safely behind us. 
******************
**********************
A Word From David!
Just a Thought
Today's announcement that Planned Parenthood withdrawals from Title X program (see article below) costing it $60 million dollars in taxpayer funds ought to be celebrated but with the bigger picture in mind. Planned Parenthood still receives around $500 million dollars of taxpayer money, mostly in the form of Medicaid reimbursements. Planned Parenthood has over $1 billion dollars in assets alone (not to mention their annual net income.) Planned Parenthood's predominate source of income is from abortion services- don't let the "only three percent of our services" trope fool you. Not even "pro-choice" publications believe that nonsense. Planned Parenthood is still the leading abortion provider in this country, executing a third of a million abortions per year. Let's get out on the sidewalk and speak for the voiceless.
Planned Parenthood announces it withdrawal from the Title X program
The Planned Parenthood abortion business announced today it will officially withdraw from the Title X program — costing it $60 million in taxpayer funds because it refuses to follow a new Trump administration rule that requires it to segment out its abortion business from legitimate health care if it wants federal funding under the program. Read full article from LifeNews.com
David
Our new logo. Can you see the Monterey Peninsula? 
Like the early Christians in the Roman Empire, we are to be hands of Christ where we live, on the Monterey Peninsula. Historically speaking, the pagan world was brutal in many regards. Universal respect for human life was a foreign concept. Infanticide was the norm. Tradition had it that Romulus, the founder of Rome was rescued from abandonment as a newborn, rose to power but still advocated for infanticide during his reign. Even Aristotle advocated infanticide should to be legally required to rid society of deformed children. Tribunals were sometimes set up to determine if a child would "weigh down" society and if so be killed. Like the animal kingdom, survival of the tribe was the ethos of the era. There were no hospitals. Infants were often left on dung heaps or trash heaps to die of exposure.
Enter Christianity. 
Early believers preached the Bible- all persons are made in the image of God. All are worthy of dignity. Tertullian the second/ third century Christian author from Carthage wrote Christians would often go to the trash and dung heaps to rescue infants suffering from exposure, give them a proper burial or palliative care in their final moments. Not only did early Christians preach a pro life message- there were the hands of Christ. The Roman empire wasn't conquered by Christians through politics or war. God gave them victory. The conversion of the most powerful empire in history was a grass roots movement enacted through obedience to the Word. The movement followed the pattern of its leader Jesus Christ whose hands and side were pierced so that others may live. Likewise, if we are to see our land healed we will need to roll up our sleeves and get involved. The pro-choice movement is entrenched. Only the Lord can break through. That will happen when his people decide it is time to act. 
Prayerfully consider joining us on the sidewalk. 
Blessings in Christ,
David Brownfield
**********************
Support Our Pregnancy Centers
Our pregnancy centers are essential to the pro-life movement. They are under constant spiritual attack and typically run a budgetary deficit. Even if you can only donate $25, $50 or $100 per month, please do so. Auto payment makes it easy and consistent. That's what we do. Guadalupe Pregnancy Outreach, Compassion Pregnancy Center and Confidence Pregnancy Center, all need our individual financial support. Let's support all three.  
——————————
Monterey Peninsula For Life
MUST WATCH 30 Minute Video for Unplanned Every Pro-Life Advocate Must Watch
Take a stand. Save a life.
______________________________________________
Tips for Sidewalk Counseling
The information below was copied directly from Pro-Life Wisconsin: A Sidewalk Counselor's Handbook. Although MPFL does not necessarily subscribe to one particular method of sidewalk advocacy for every person to adhere to, in general, I found their approach reasonable and worthy of consideration. Take a look …
"There are a lot of ways to sidewalk counsel, and almost all of them can be used to save lives and souls. If you're looking to maximize your likelihood of a positive encounter on the sidewalks, here are some helpful tips. Before you go: 
Come dressed for the weather. When it's cold, dress a little warmer than you expect you'll need. When you're outside more than a few minutes, you feel colder. If you're nervous you might also feel colder. 
Don't come dressed for a pro-life rally. Pro-life shirts can be a great way to witness, but they might intimidate those you're trying to counsel. Dress in a modest and unthreatening manner that doesn't reveal any "agenda" so that your loving concern for those you counsel shines through! 
Have backup. You never want to sidewalk counsel alone. Bringing a friend is important for both prayer support and safety. 
Bring your smartphone. CrisisPregnancies.org is a website specifically tailored for mobile phones. You can use it to show abortion clients ultrasound videos, the sound of a pre born child's heartbeat, pregnancy help center information and more. 
If you have a camera, bring it, but use it with discretion. Having a camera provides you with an opportunity to document what takes place at the abortion facility (like an ambulance leaving following a botched abortion). It also can provide proof if any unjust accusations are made regarding your presence at the abortion facility. The camera on your cell phone is sufficient. Don't use your camera to record people entering the abortion facility. It can create an adversarial relationship between you  and the person you're counseling and poses the risk of affirming an abortion decision. (Don't feel like a camera is necessary to ensure your safety; it's just a helpful tool.) 
Visit your local pregnancy help center. These centers are generally willing to arrange a tour if you ask (call ahead!), and you'll be better equipped to make a referral. 
Know the abortion facility logistics. When does it open? Which days are abortions performed? What other "services" are provided? How late in a pregnancy does the center perform abortions? 
While you're there on the sidewalk: 
Know your rights and obligations. You have a right to be on the public sidewalk as long as you don't obstruct anybody else from moving freely. 
Obey law enforcement. It's always possible that the police may be called by the abortion facility. Even if you feel your rights are being violated, follow the police's instructions and let an attorney rectify the situation later. This will prevent your arrest. After all, you can't save lives if you're in jail! Pro-Life Wisconsin can help arrange for free legal representation. 
Don't be intimidated or afraid of trying to remember ALL of the sidewalk counseling methods, tips, techniques or facts. Memorize a few talking points and be confident sharing them! 
Don't wear sunglasses or hoods. Direct eye contact helps you establish communication and builds trust. 
Maintain your position! As a sidewalk counselor, you want to be where you have the best view of people coming and going while having room to engage the people going in. Remain vigilant. If you are the prayer partner, you will stand back from the sidewalk counselor so you do not intimidate the client. 
Stick to the mission. You are peaceful, prayerful, helpful, joyful and appealing, attempting to win the person over to your side and recognizing that everyone involved in abortion is a victim. Exude confidence. Be serious and focus on the task at hand, avoiding socialization where possible. When you are not actively sidewalk counseling, you are in prayer or studying your materials, fortifying your efforts. 
Congratulate the woman who turns away from the abortion facility and connect her with the help you promised her. 
You are representative of the pro-life movement and Christians. Represent well."
I especially like tip 3. under "while you're there on the sidewalk." Sidewalk advocacy has many facets. The topics are important and sometimes complex. "Memorize a few talking points and be confident sharing them!" That is good wisdom. Also, as we mentioned in Word of Inspiration, the manner by which you offer knowledge will speak volumes. A gentle word turns away wrath. Let me know what you think.
God bless you. Have a great week. If you have a spare hour or so we would love to see you on the sidewalk this week.
Blessings in Christ,
David Brownfield
Respect Life
Monterey Peninsula For Life
Monterey Peninsula For Life
"Rescue those being led away to death." Proverbs 24 

Join our Sidewalk Ministry Outside of Planned Parenthood in Seaside, California.  
Enter your contact information below and one of our Sidewalk Ministry coordinators will contact you.  Your information WILL NOT BE SHARED.
***********************
Don't be Fooled, Abortions are NOT on the Decline!
When you read articles that "Abortions are on the Decline" do not believe it!  States are NOT required to include medically induced abortions, like using the morning after pill, and since abortifacients, pills that induce abortions, are available over the counter and through vending machines on campuses, there is no way to track the true number of medical abortions!  Even "surgical" abortion numbers are false since California (the State with the largest number of abortions), Maryland, and New Hampshire.  According to Planned Partenthood's Guttmacher Institute:
1 in 4 Women in the US will have at least one abortion by age 45!

Blacks and Hispanics will have 53% of the abortions in 2018 while only comprising 30% of the total US population!

62% of the women having abortions state they have religious affiliations.

49% of women having abortions live below the poverty line.
***********************
Separation of Families at Our Borders Versus Abortion,
The Permanent Separation
No matter how you feel about the current debate raging over separating the children of those trying to enter our country illegally, it is undisputed that the separation of a child from its mother via abortion is permanent, a violation of God's commandment, and a scourge of our society today.  In the past week, many have condemned the segregation of 12,000 children who had been apprehended at our border and are now being housed by our department of Health and Human Services, 10,000 of which were NOT accompanied by a parent or relative, while remaining silent while 17,811 babies have lost their lives to abortion.  Of those 17,811 babies, none will ever be reunited with their families.  Of those 17,811 babies, none will ever have the opportunity to be US citizens. Of those 17,811 babies, none will ever know the joy and pride of parenthood.
Outrage cannot be selective and moral equivalency cannot be drawn when comparing the horrors of abortion to anything else a human child can endure.  We decry "water boarding" while we stay silent about the inhumane torture and death of an innocent unborn baby via abortion.  We decry human rights abuses at the hands of dictators around the world while we stay silent about the inhumane torture and death of an innocent unborn baby via abortion.  STAY SILENT NO MORE AND PROTECT OUR UNBORN!
***********************
Everyday Should be Mother's Day
God's Eternal Bond
Women have been blessed with the ultimate gift from God, Motherhood; with it, the love that springs forth from a woman's ability to bring new life into this world; and to care, protect, and nurture their children, and all those who are blessed to know them.  Motherhood is that natural giving quality God gave to only women and they in turn spread God's goodness to their children, or if they are with or without children, to everyone they meet.  God's special gifts to women provide humanity with a yearning to protect life, care for those in need, and to spread their love to those dear to them and to those they meet only casually.  
God placed a mother's love on the same level as His own for us. In Isaiah 66:13 He taught us; "As a mother comforts her child, so will I comfort you; and you will be comforted over Jerusalem." Mothers, and women without child, have the unique ability to comfort those they meet in need, and the ability to protect those who cannot protect themselves, and to offer love to the loveless.
This Mother's Day, honor your own mother but also all women you meet.  Know that they have been given the gift of life from God and the awesome responsibility to ensure that life is not only created through them, but all life is nurtured and protected by them.
This Mothers Day, pray for those mothers who have or are contemplating an abortion.  Consider their agony when you think about God's gift to these special persons and their place in God's plan.  Each and every life created by God at the time of their conception is a new life made in the image of God Himself.  Each unborn child that is given up to abortion is a part of God Himself and an affront to His greatness, mercy and love.
Seek Life and enjoy God's Eternal Bond.
Monterey Peninsula for Life
***********************
45th President of the United States Donald J. Trump Addressed 46th Annual March for Life Live from the White House via Satellite on January 18th, 2019 (NCA/EWTN)
Click Below to Watch Vice President Pence, Second Lady Mrs. Pence and  President Trump's Address to March for Life n Washington DC, 1/19/2018
Pictures From Walk For Life-San Francisco 2019
Pictures From Walk For Life-San Francisco 2018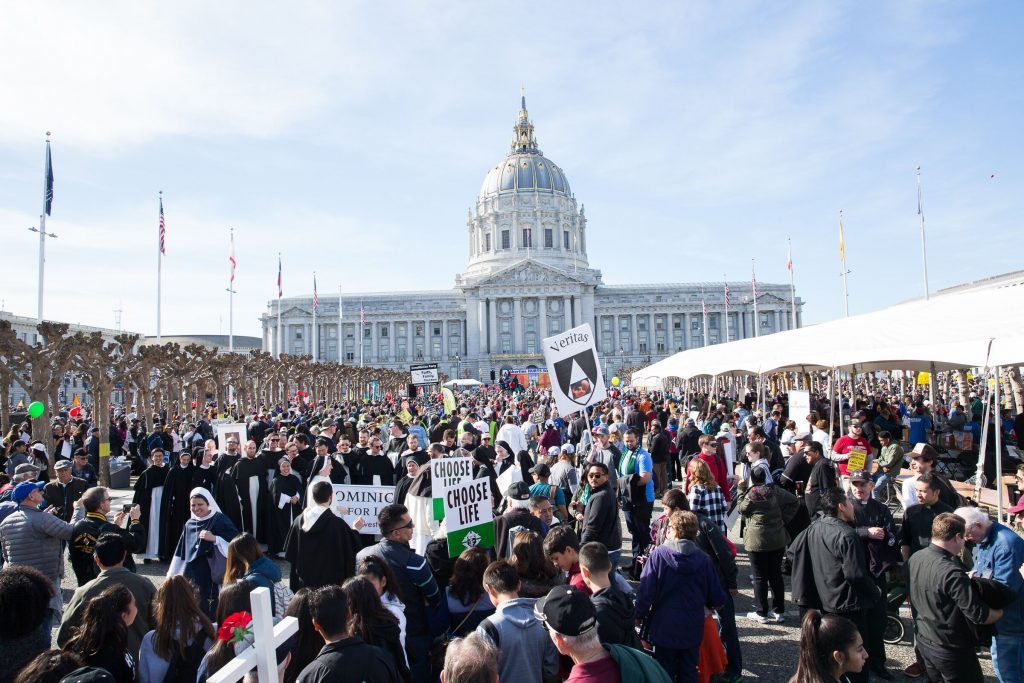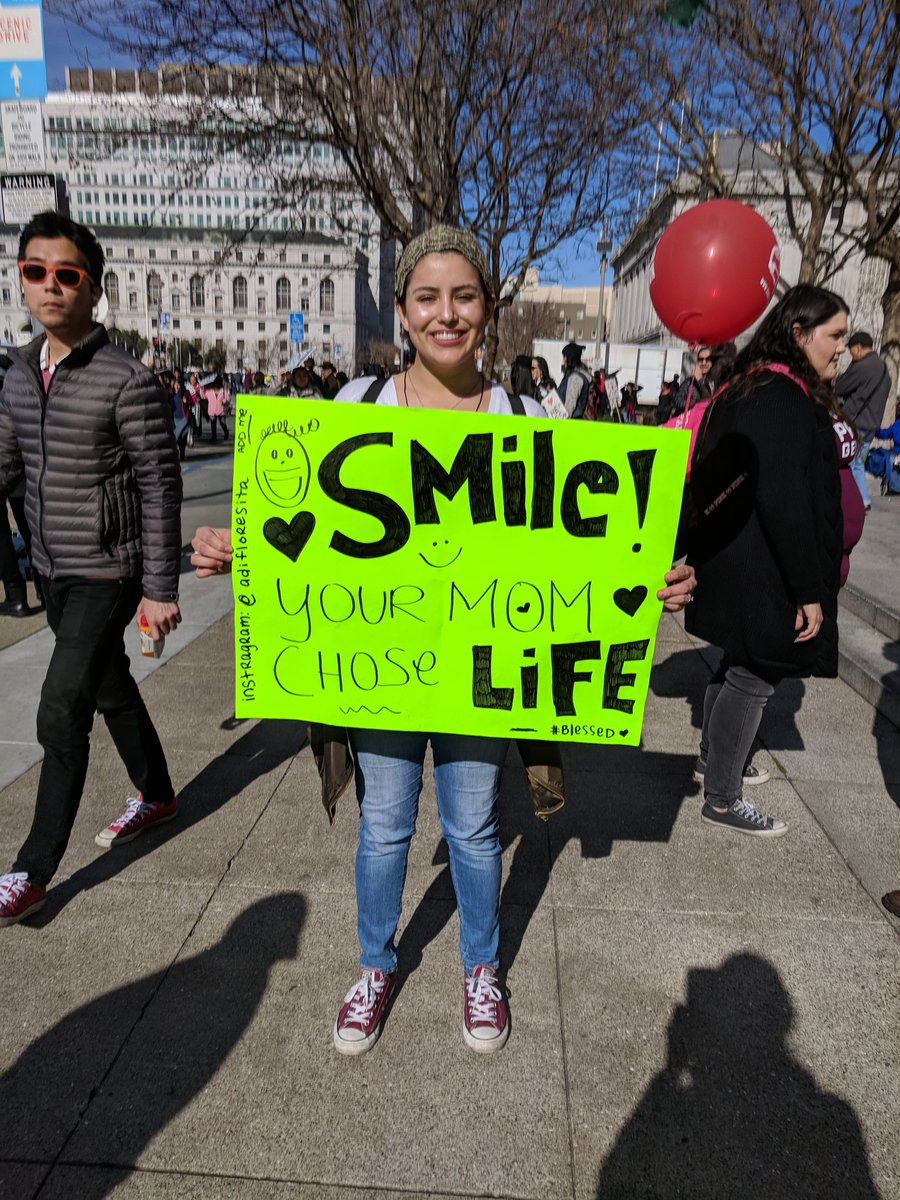 Saturday, January 27th, 2018
********************
---
Ben Shapiro Provides Template On How To Defend Life!
When speaking at UC Berkeley recently, Ben Shapiro was question by a pro-choice student on how Ben could defend his Pro-Choice positions.  The conversation went like this:
Shapiro:  "Any time you draw any line other than the inception of the child, you end up drawing a false line that can also be applied to adults, so either human life has intrinsic value or it doesn't."

Shapiro queried whether they could agree on the premise the adult life has intrinsic value.  The student stated that he believed IF sentience is present, "the ability to perceive or feel things", then the person has moral value rather than just being a human without moral value.

Shapiro responded, "OK, so when you're asleep, can I stab you?" Ostensibly when you are asleep, you cannot perceive or feel things.  The student said no.

Shapiro went on, "OK, if you are in a coma from which you may awake, can I stab you?"  The student was not sure but stated, "But that's still potential sentience!"
Shapiro added,  "Do you know what else has potential sentience? Being a fetus,"
It is sad that human beings, especially those in the "civilized west", wantonly engage in infanticide that is also genocide when applied to the high incidence of abortion among Blacks and Latino communities.  Politicians will protect the lives of our most innocent and vulnerable, only God can rid humanity of this lunacy!