Monterey Peninsula For Life
Take a stand. Save a life. 
**********************
March 6 through April 14th, 2019
Hello friends.
The 40 Days For Life flyers just arrived. We have less than a month to spread the word about this amazing opportunity grow spiritually and help end abortion on the Monterey Peninsula. 
We now have 200 flyers about our specific campaign printed out on medium stock. Let me know how to get them to you. Where can we meet?
Who do you give them to?
* your priest or pastor
* the person who puts info in your bulletin at church
friends 
* organizations in which you participate 
* prayer group
* bible study group
* public spaces (libraries, CSUMB) where notifications are permissible.
What do you say?
You can just repeat the info on the flyer. Plus, 40 Days For Life was endorsed by Pope Francis and Jim Daly of Focus on the Family. 40 Days For Life is transformative for all those who participate. It is impactful- closing abortion clinics and saving lives around the world (see results on their main website.) Register online and sign up for vigil hours on the calendar. 
Below is a PDF file you can use to make your own flyers or let me know when I can meet you and get you some of our medium stock flyers. Special thank you to the Carmel Mission for printing these out for us.   spring2019flyer1e-small
It is time,
David

Unplanned, The Movie
Must see Movie Coming Out March 29th.  This is the story of Abby Johnson, a former director of Planned Parenthood who left the abortion industry and joined the 40 Days For Life movement and founded "And Then There Were None", ATTWN to provide funding for any abortion worker who wants to leave the industry and give them time to find new employment.
https://dailycaller.com/2019/02/22/abortion-movie-r-rated-violence/
**********************
Support Our Pregnancy Centers
Our pregnancy centers are essential to the pro-life movement. They are under constant spiritual attack and typically run a budgetary deficit. Even if you can only donate $25, $50 or $100 per month, please do so. Auto payment makes it easy and consistent. That's what we do. Guadalupe Pregnancy Outreach, Compassion Pregnancy Center and Confidence Pregnancy Center, all need our individual financial support. Let's support all three.  
——————————
For Info on Gosnell, the Movie, Click on the link below:
______________________________________________
From David Brownfield, MPFL Director
Hello friends, 
How do you respond when someone gives you the one-fingered salute? You know what I mean, an angry passerby flips the gesture of displeasure. Well, count it a blessing and leap for joy. To involve yourself in the work of Christ means that in this world you will be persecuted. We are naturally afraid of pain. But there is no pain greater than the joy that God gives those who sacrifice themselves for the kingdom. The apostles suffered because they lived like Christ in this world. 1 John 2:6 "By this we know that we are in Him: whoever claims to abide in Him must walk as Jesus walked." Do you claim to abide in Him? Not only should we not fear pain, we should welcome it. The disciples considered it a blessing to be considered worthy to suffer for the gospel because God is just. He will eternally reward those who make themselves a living sacrifice. Leap for joy at the opportunity to engage in this spiritual battle. Abortion is Satan's altar. The more effective we are the more the attacks will surface. Luke 6:22-23 "Blessed are you when people hate you, when they exclude you and insult you and reject your name as evil, because of the Son of Man. Rejoice in that day and leap for joy, because great is your reward in heaven."  
Thank you to all of you who stood on the sidewalk for the pre-born child last week. This week might be busy at the abortion clinic in Seaside. We need a strong presence on the sidewalk from Wednesday through Friday. Contact me to coordinate your visit. Blessings, David 
IMPORTANT UPCOMING DATES:
Monterey Peninsula For Life
"Rescue those being led away to death." Proverbs 24 

Join our Sidewalk Ministry Outside of Planned Parenthood in Seaside, California.  
Enter your contact information below and one of our Sidewalk Ministry coordinators will contact you.  Your information WILL NOT BE SHARED.
***********************
Don't be Fooled, Abortions are NOT on the Decline!
When you read articles that "Abortions are on the Decline" do not believe it!  States are NOT required to include medically induced abortions, like using the morning after pill, and since abortifacients, pills that induce abortions, are available over the counter and through vending machines on campuses, there is no way to track the true number of medical abortions!  Even "surgical" abortion numbers are false since California (the State with the largest number of abortions), Maryland, and New Hampshire.  According to Planned Partenthood's Guttmacher Institute:
1 in 4 Women in the US will have at least one abortion by age 45!

Blacks and Hispanics will have 53% of the abortions in 2018 while only comprising 30% of the total US population!

62% of the women having abortions state they have religious affiliations.

49% of women having abortions live below the poverty line.
***********************
Separation of Families at Our Borders Versus Abortion,
The Permanent Separation
No matter how you feel about the current debate raging over separating the children of those trying to enter our country illegally, it is undisputed that the separation of a child from its mother via abortion is permanent, a violation of God's commandment, and a scourge of our society today.  In the past week, many have condemned the segregation of 12,000 children who had been apprehended at our border and are now being housed by our department of Health and Human Services, 10,000 of which were NOT accompanied by a parent or relative, while remaining silent while 17,811 babies have lost their lives to abortion.  Of those 17,811 babies, none will ever be reunited with their families.  Of those 17,811 babies, none will ever have the opportunity to be US citizens. Of those 17,811 babies, none will ever know the joy and pride of parenthood.
Outrage cannot be selective and moral equivalency cannot be drawn when comparing the horrors of abortion to anything else a human child can endure.  We decry "water boarding" while we stay silent about the inhumane torture and death of an innocent unborn baby via abortion.  We decry human rights abuses at the hands of dictators around the world while we stay silent about the inhumane torture and death of an innocent unborn baby via abortion.  STAY SILENT NO MORE AND PROTECT OUR UNBORN!
***********************
Everyday Should be Mother's Day
God's Eternal Bond
Women have been blessed with the ultimate gift from God, Motherhood; with it, the love that springs forth from a woman's ability to bring new life into this world; and to care, protect, and nurture their children, and all those who are blessed to know them.  Motherhood is that natural giving quality God gave to only women and they in turn spread God's goodness to their children, or if they are with or without children, to everyone they meet.  God's special gifts to women provide humanity with a yearning to protect life, care for those in need, and to spread their love to those dear to them and to those they meet only casually.  
God placed a mother's love on the same level as His own for us. In Isaiah 66:13 He taught us; "As a mother comforts her child, so will I comfort you; and you will be comforted over Jerusalem." Mothers, and women without child, have the unique ability to comfort those they meet in need, and the ability to protect those who cannot protect themselves, and to offer love to the loveless.
This Mother's Day, honor your own mother but also all women you meet.  Know that they have been given the gift of life from God and the awesome responsibility to ensure that life is not only created through them, but all life is nurtured and protected by them.
This Mothers Day, pray for those mothers who have or are contemplating an abortion.  Consider their agony when you think about God's gift to these special persons and their place in God's plan.  Each and every life created by God at the time of their conception is a new life made in the image of God Himself.  Each unborn child that is given up to abortion is a part of God Himself and an affront to His greatness, mercy and love.
Seek Life and enjoy God's Eternal Bond.
Monterey Peninsula for Life
***********************
45th President of the United States Donald J. Trump Addressed 46th Annual March for Life Live from the White House via Satellite on January 18th, 2019 (NCA/EWTN)
Click Below to Watch Vice President Pence, Second Lady Mrs. Pence and  President Trump's Address to March for Life n Washington DC, 1/19/2018
Pictures From Walk For Life-San Francisco 2019
Pictures From Walk For Life-San Francisco 2018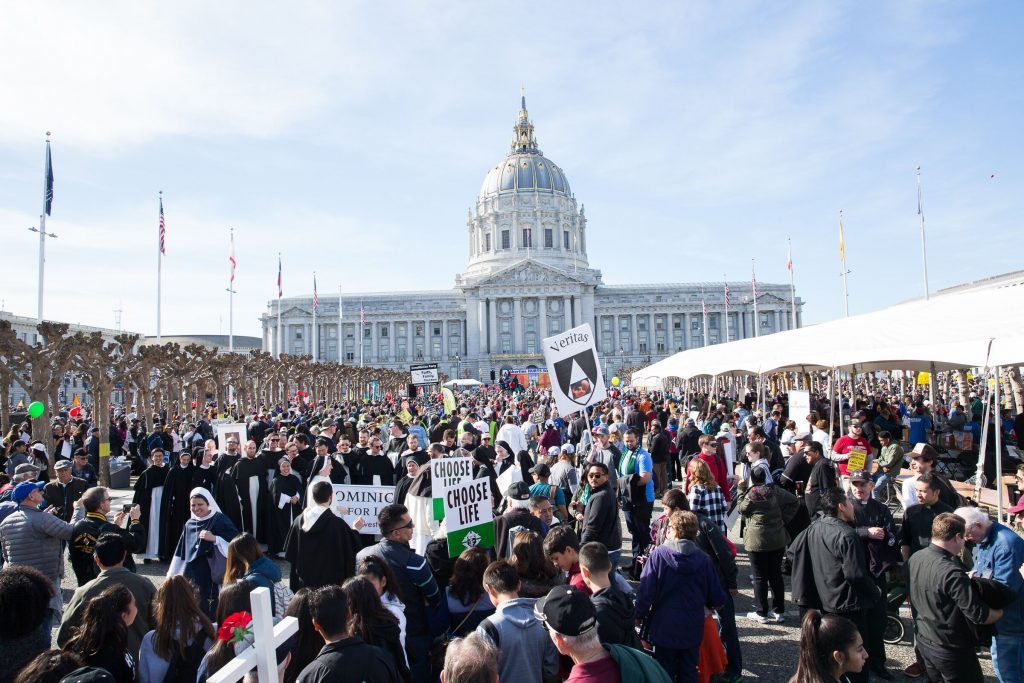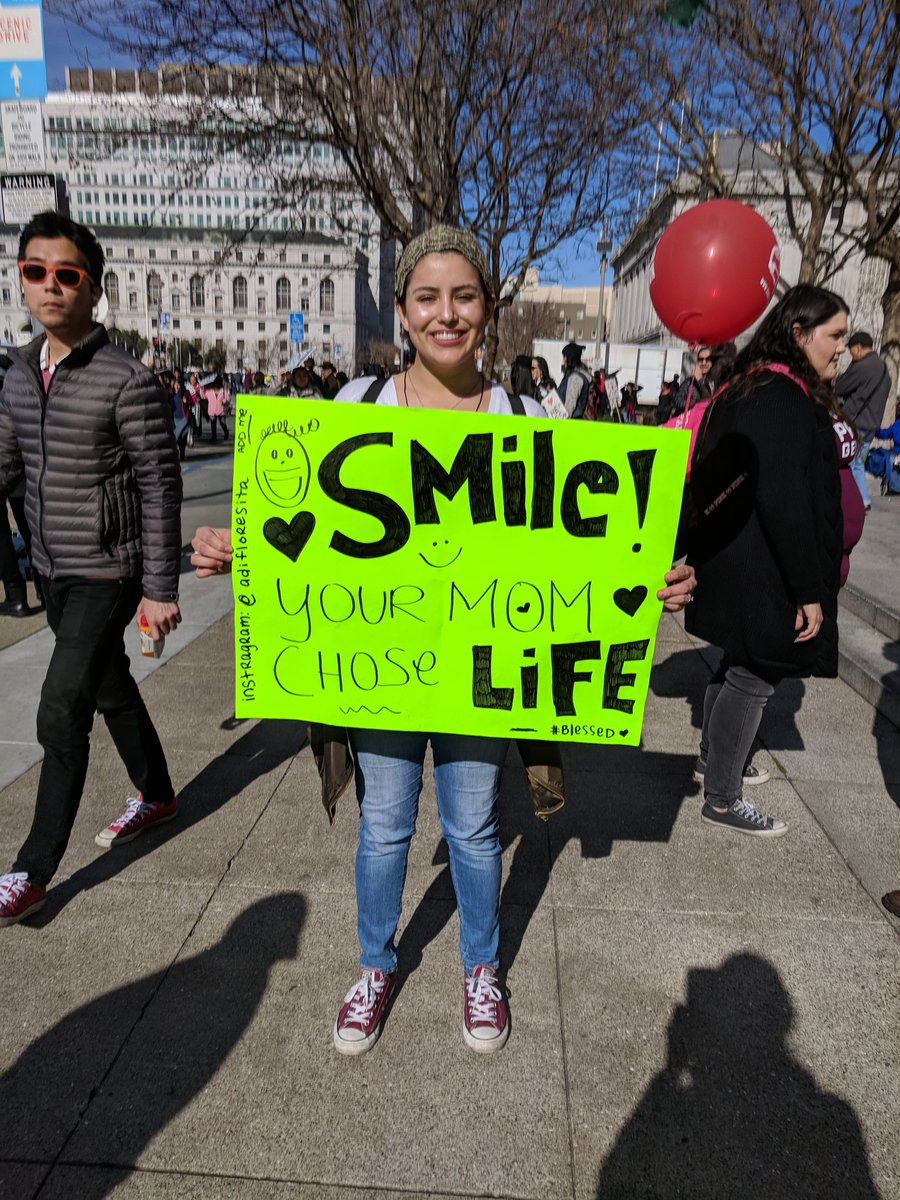 Saturday, January 27th, 2018
********************
---
Ben Shapiro Provides Template On How To Defend Life!
When speaking at UC Berkeley recently, Ben Shapiro was question by a pro-choice student on how Ben could defend his Pro-Choice positions.  The conversation went like this:
Shapiro:  "Any time you draw any line other than the inception of the child, you end up drawing a false line that can also be applied to adults, so either human life has intrinsic value or it doesn't."

Shapiro queried whether they could agree on the premise the adult life has intrinsic value.  The student stated that he believed IF sentience is present, "the ability to perceive or feel things", then the person has moral value rather than just being a human without moral value.

Shapiro responded, "OK, so when you're asleep, can I stab you?" Ostensibly when you are asleep, you cannot perceive or feel things.  The student said no.

Shapiro went on, "OK, if you are in a coma from which you may awake, can I stab you?"  The student was not sure but stated, "But that's still potential sentience!"
Shapiro added,  "Do you know what else has potential sentience? Being a fetus,"
It is sad that human beings, especially those in the "civilized west", wantonly engage in infanticide that is also genocide when applied to the high incidence of abortion among Blacks and Latino communities.  Politicians will protect the lives of our most innocent and vulnerable, only God can rid humanity of this lunacy!